Freelance Management System
The cloud solution to manage your company's freelance talent pool.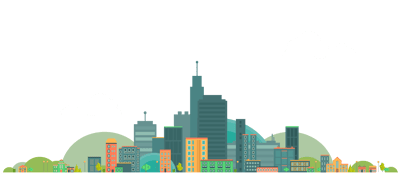 Centralise all your freelancers in one single place
Build your own pool of professionals, manage and assign them to projects effortlessly and efficiently.
Expand your reach
Find the profile that you are looking for in a specialised network of more than 35,000 certified experts.
Discover the tools that will help you manage your external talent pool

1.

Find experts in the Outvise network

2.

Centralise your pool of freelancers

3.

Tag them and create lists

4.

Monitor availability

5.
Up-to-date profiles and CV

6.

End-to-end hiring management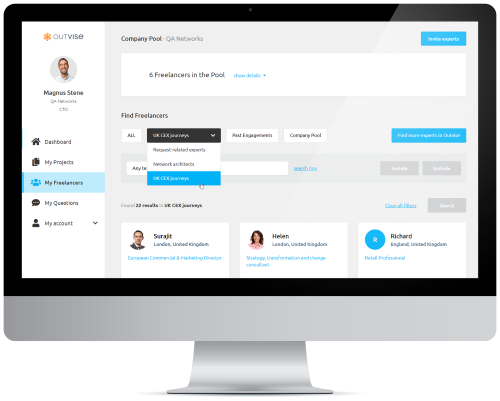 Manage your own pool of freelancers in the cloud
No more spreadsheets. Create your own database of industry experts in the cloud. Use a single and searchable database for all your external freelance talent.
Your can invite your existing external freelance experts to join your private company pool. They will be able to upload their CV and create their own profile.
Staff your projects and RFPs with the right industry experts.
Search in our network by keyword, language, region or skill. Once you find suitable candidates, you can save them, classify them by tags and group them in lists.
Easily monitor their availability and invite them to participate in your project. Outvise manages all the paperwork for you.
Request a demo and explore all the different features
This information will help us personalize your demo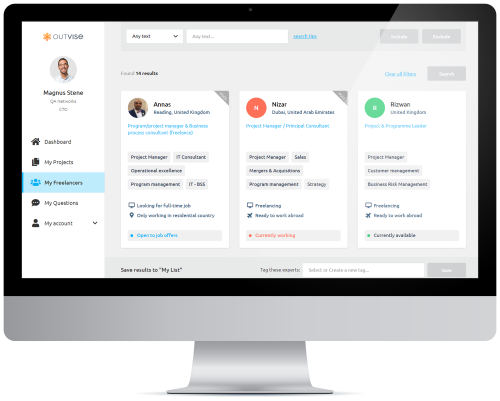 Monitor Availability
No more calls, no more messages and emails to tons of freelancers.
Easily check who is available directly from your lists and invite them to participate in your project with just one click.
End-to-end hiring management
Once you find the right expert for your project, you can easily hire them through the platform.
We generate compliant contracts and certify them with electronic signatures.
Invoices and timesheets from your active freelancers are automatically collected and processed centralising all your different payments in one single provider.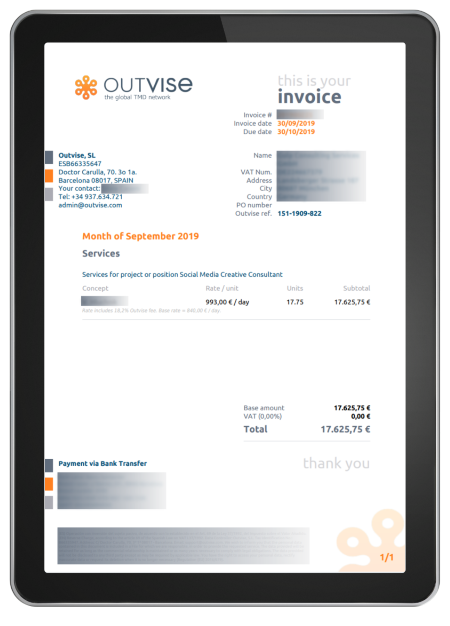 01.
On/Offboarding automation
Conditions setting

FL initial compliance checks

Approval process/PO

Contract electronic signature
02.
Payment automation
Automated timesheet control /approval process

Expenses management

Simplification of payment through 1 provider + conciliation + accounting
03.

Compliance automation
Automated compliance alerts per FL

Automation of tax and administrative documentation
04.

Reporting & Control
Dashboards

Forecast and business alerts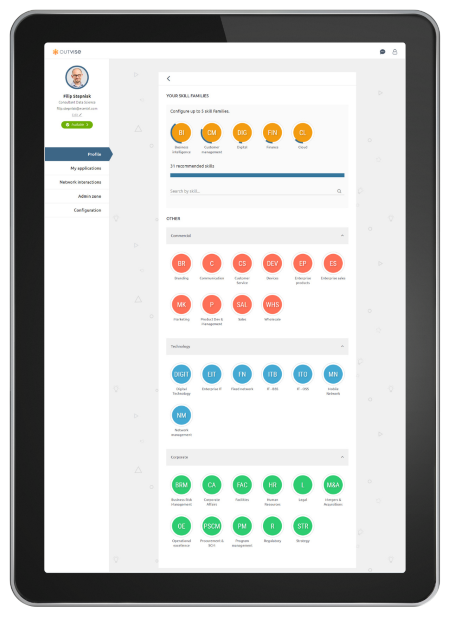 Up-to-date profiles and CVs
Don't waste time constantly updating information about your freelancers. Invite them to the tools and let them update their profile by themselves.
We review CVs and translate the candidates' information into families of skills. Up to 700 different skills define candidates' profiles and they can check and edit what the CV engine has understood. Moreover, freelancers get reminders to check and verify automatic CV updates.
We delivered independent consultants in most of the top tech trends.
1850

Artificial Intelligence
3450

Digital Transformation
3450

Digital Transformation