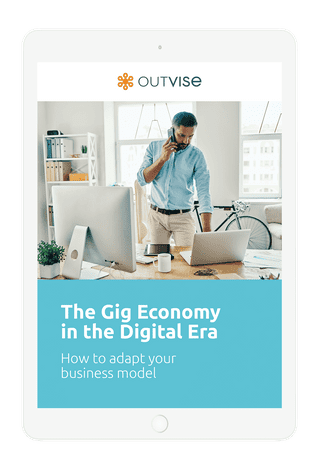 Download the Free Ebook
The Gig Economy in the Digital Era
Descárgalo gratuitamente rellenando este formulario:
Download the Ebook and discover how to adapt your business model to the Digital Era
New developments are outmoding existing systems, increasing customer expectations and heightening competition. Businesses have to be more adaptable than ever before.
Today, the gig economy is exploding: a community of workers with particular skills who work on a freelance basis. These individuals are highly adaptable, agile, and perpetually available, mirroring the conditions of the modern marketplace.
Download the Ebook and discover how to adapt your business model and recruitment strategy to meet the challenges of the digital era:
Liquid talent in the Digital Era
Gig Economy as Liquid Talent Pool
The Key Roles in the Digital Brand
The Right Gig for the Right Task
Why Digital Talent Platforms Present the Solution